Top 6 Best 4K Laser UST Projectors 2022: Aggregate Ranking Across Key Tech Sites
To avoid you having to research hundreds of sources to find out what's the Top Ultra Short Throw Projectors for 2021, we've done all the hard work for you and looked at leading tech journalists views on the latest and greatest home cinema UST models.
This reviews provides a brief overview of all the leading home cinema sources from Projector Central, Passion home cinema, YouTube, Techradar and many more. They are then ranked together along with feedback we have had direct from our customers at Personal Projector Ltd.
Rank
Top UST Laser Projectors

Runners Up Rankings

Pros

Cons

1
Changhong / CHiQ V8S
1st by Personal Projector

8 Point Keystone
130% Colour Gamut
Image quality & Value for money

Electronic Keystone correction reduces 4k Image quality

2

Optoma CinemaX P2
1st by Projector Central
2nd by Homecrux
3rd by Passion Home Cinema

Image quality
Voice control
Built in media player

Overpriced
Electronic Keystone correction reduces 4k Image quality

3
VAVA VA-LT002 4K UHD Projector
1st Techradar
2nd Projector Central
4th Passion Home Cinema
6th Omnicore

60 watt Harmon Kardon speakers
On board Android system
High brightness

No image interpolation mode
High power consumption
4
Chiq A5U UST Laser Projector
4th by Personal Projector
1st by HDTV Test
Image quality & Value for money
Design high quality
Impressive External Speakers
Lowest Input Lag for Gamers
Manual keystone correction

5

Chiq B5U UST Laser Projector

2nd Passion Home Cinema (Gold Award)
5th Personal Projector
Image quality
Best Value for Money versus Spec
Impressive Speakers
Lowest Input Lag for Gamers
Manual keystone correction

6

BenQ V6000 / BenQ V6050 
5th Passion Home Cinema

Automatic Sunroof Slider
treVelo in-built speakers
Design
Overpriced

Runners up
7
Optoma UHZ65UST / CinemaX P1
4th by tfind.net
7th by OmniCore
9th by Projector Central

8

Samsung Premiere LSP7T

4th by Projector Central
5th by HomeCrux
8th by IGN

9
LG Cinebeam HU85LA
4th by HomeCrux
7th by Projector Central
Coming in at No. 1 is the new V8S projector from ChangHong / CHiQ.
Recently released in early 2021, the V8S easily takes the top spot due to its 8-point keystone correction, 130% colour gamut and high brightness while remaining at an affordable price (around £350 / €405 / $485 cheaper than the Optoma P2).
Just like its predecessors B5U / A5U, the V8S has one of the worlds shortest throw lens @ 0.21:1 perfect for those limited by space yet still want the big screen. Achieve a 100" image from a 19.5cm distance.
This is one of the best performance projectors, has the best value for money and comes with excellent UK warranties and after sales service.
2. Optoma CinemaX P2
At No 2 is the Optoma CinemaX P2. The P range has been a top performer for a while now across the top 5 UST 4K projector articles in 2020 and 2021 due to its stunning 4K image quality, on-board speakers, high brightness albeit at a much higher cost than its nearest competitors like the Chiq A5U or B5U or V8S.
The CinemaX P2 projector is packed with the latest technology and features such as HDR compatibility, PureMotion frame-interpolation processing, voice control, streaming apps and a built-in media player.
Ranked 1st by Projector Central
Ranked 3rd in France by the French specialist projector journalist Gregory at PassionHomeCinema who also awarded the P2 a Gold Award.
Ranked 2nd by HOMECRUX just under the VAVA 4K, due to the VAVA having more powerful speakers.
It's also worth noting that if you use 4k keystone correction it does mean the 4K image quality deteriorates compared to a non keystone correction.
The P2 does however come at a premium price and can be hard to obtain stock. Arguably there are better value for money UST models out there at significantly lower cost.
3. VAVA VA-LT002 4K UHD Projector
The VAVA 4K projector was very popular in 2020 (especially in Asian markets) and according to Techradar is "one of the best projectors on the market today"
The VAVA claims a high brightness of 2500 Ansi Lumens and features powerful 60 watt Harmon Kardon speakers, built-in Wi-Fi and Ethernet connectivity and an onboard Android operating system.
However, it comes 4th as other reviewers such as Passion Home Cinema have commented that the Vava 4k UST:-
"does not offer any image interpolation mode and above all a contrast and a brightness after calibration well below its counterparts and competitors." - Passion Home Cinema 
Ranked 2nd by Projector Central
Also ranked 6th by Omnicore (a full-service digital marketing agency) for the projectors high brightness and long lamp life but falls down with power consumption "about 360W".
Overall we rank the Vava 4k UST projector 3rd place because of its powerful built in harmon/kardon speakers, high brightness @ 2500 Ansi Lumens and built in Android TV so you can use streaming apps directly from the projector.
4. CHiQ A5U
A top performing alternative to the Optoma p2 with great value for money is the CHiQ A5U. It's also an astonishing £400+ ($540 / €480) cheaper.
The A5U is marketed as the ultimate all-in-one home cinema package with a unique and luxury design with a surprisingly powerful set of 20 watt designer external speakers included. These external speakers are what sets the A5U apart from others on the market along with its impressive image quality and value for money.
Don't be fooled by the advertised low lumens either. For some reason CHiQ understate the comparative brightness and contrast on their projectors so whilst this projector only has a brightness of 2500 ansi lumens it is on par with projectors claiming 3,000 – 5,000 ansi lumens.
Youtube's TV technology reviewer HDTVTest claims the Chiq A5U projector has:-
"lower input lag than other Chinese 4K UST projectors on the market" which this makes this projector great for gaming or live action movies / TV or Sport.
5. CHiQ B5U
Released into Europe in 2020, the CHiQ B5U laser projector quickly became one of the more popular projector models with its amazing price of £2089 / € 2,360 / $2860 whilst still having all the bells and whistles you can see why. Still to this day, the B5U has the latest technology and is on par with the latest released projectors.
The B5U delivers excellent image quality with good colour gamut and like the A5U appears much brighter in the flesh than it does on paper.
It also has one of the world's shortest throws for those limited by space yet still want the big screen.
PassionHomeCinema awarded the CHiQ B5U a Passion Home Cinema Gold Award and also ranked it 2nd for its great value, impressive gaming speeds and UK / EU (instead of Chinese) support and guarantee.
For UK / EU buyers the Chiq B5U (and A5U) projectors are a great way to get the best performance and value for money without all the concerns of dealing importing from China as they are all serviced from the UK and come with excellent warranties and after sales service providing great piece of mind on a high value item.
6. BenQ V6000 / BenQ V6050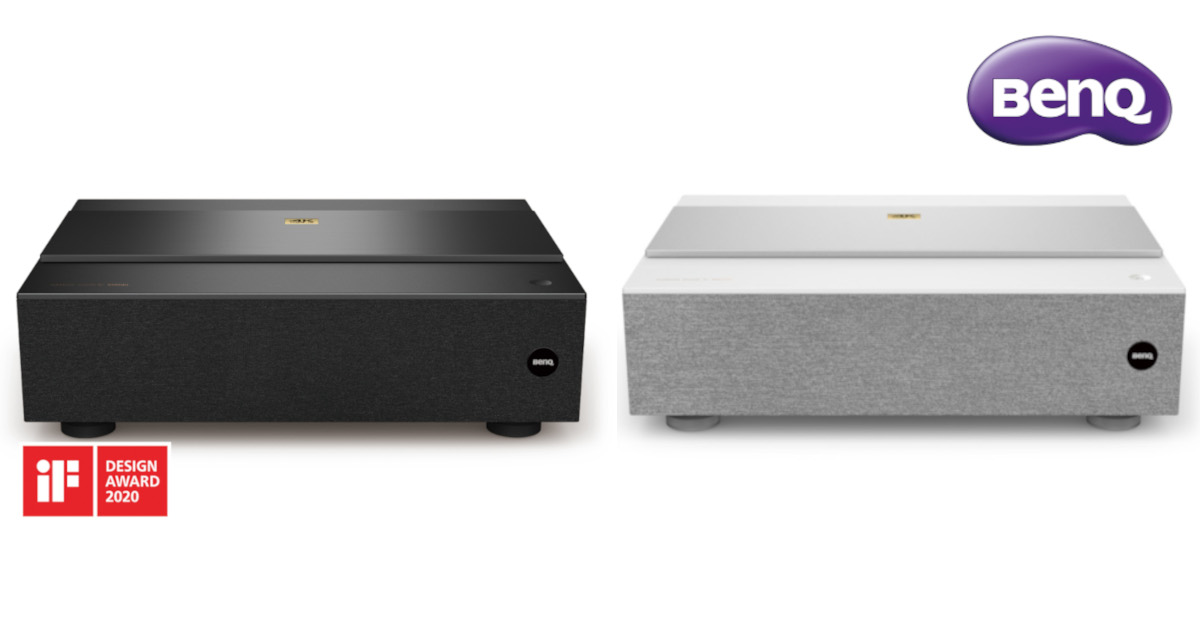 PassionHomeCinema ranks the BenQ projectors 5th.
The BenQ V6000 / V6050 is a high end projector and like most of the above models is ideal for anyone looking to replace a 4K TV as it features a large immersive 100" projected image, premium design with an automatic sunroof slider (covers the light source when not in use), built-in treVolo speakers.
However, despite its beautiful design and high spec, this projector comes in at a whopping £3999.00.
Similar projectors can be found with similar specs at a lower price.
   




Top UST Laser Projectors

   

   




Runners Up Rankings

   

   




Optoma UHZ65UST / CinemaX P1

   




4th by tfind.net




7th by OmniCore




9th by Projector Central

   


Samsung Premiere LSP7T

   



4th by Projector Central




8th by IGN




5th by HomeCrux

   




LG Cinebeam HU85LA

   




7th by Projector Central




4th by HomeCrux
Need help choosing the best projector or screen to meet your requirements? Please contact us via live chat, email or phone (01924 589 589).