Which Vividstorm Electric Screen Should I Choose ?
Whether you need uber cool electric floor rising Ambient Light Rejection (ALR - also known as PET Crystal) screens with black or white casings or you need an electric ALR tensioned ceiling projector screen, Vividstorm has it all in a wide variety of sizes up to 180".
Vividstorm, an established projector screen brand since 2004, now have some of the best priced and highest quality ALR electric projector screens on the market and are available with a full UK warranty.
They offer a wide range of beautifully designed projector screens for all types of projectors including ultra short throw, short throw, standard throw or long throw projectors.
With all the different variants available it can be tricky to choose the best screen to suit your needs but the Vividstorm Projector Screen Guide below should help guide you through all the different options.
Please call, email or message Personal Projector via live chat if you need any help from our specialist team.
Shipping & Pricing
Firstly, post Brexit its important to note that depending on which website you buy from the prices quoted may or may not include shipping charges, any taxes, duty and courier admin fees due. Its important to check this before purchasing if buying from overseas sites as it increase prices significantly.
If purchasing on this website, please goto the last page of the checkout and it will determine if any taxes are due if shipping outside the UK. You have the option to pay any taxes due in advance or to ship without paying the taxes.
Which screen should you choose?
The first thing to note is its very important you choose the correct model to fit your projector's throw distance and decide whether you need either:
a) ultra short throw (only works with UST projectors)
b) standard / short throw / long throw (these are grouped together into one category)
c) floor rising or ceiling pull down
Most of the Vividstorm screens are tab tensioned and also come with ambient light rejection (ALR) and range in size up to 150" or even 180" (subject to order).
Below is a table with a quick overview of which Vividstorm screen is needed for each projector type.
Ultra Short Throw (UST) projector
If you own a UST projector or have decided that a UST projector would be the best fit for your setup there are a few Vividstorm screen options to choose from.
Both of the screens below offer Ambient Light Rejection (ALR) technology, this can efficiently reject 97% of ambient light to reduce the washout effect from other light in the room so you can enjoy stunning pictures even in the day time.
These screens also feature a wide 170° viewing angle so anyone in the room will be able to see screen and a 0.6 gain that gives a brighter image even in daylight.
Vividstorm S Pro Electric Floor Rising ALR Screen
This screen is ideal for those looking to have a discreet home cinema setup.
Its simple roll up design gives the ability to move it from one room to another with ease.
The tab-tensioned screen structure makes the screen absolutely flat to deliver stunning images for UST projectors such as the CHiQ B5U / A5U.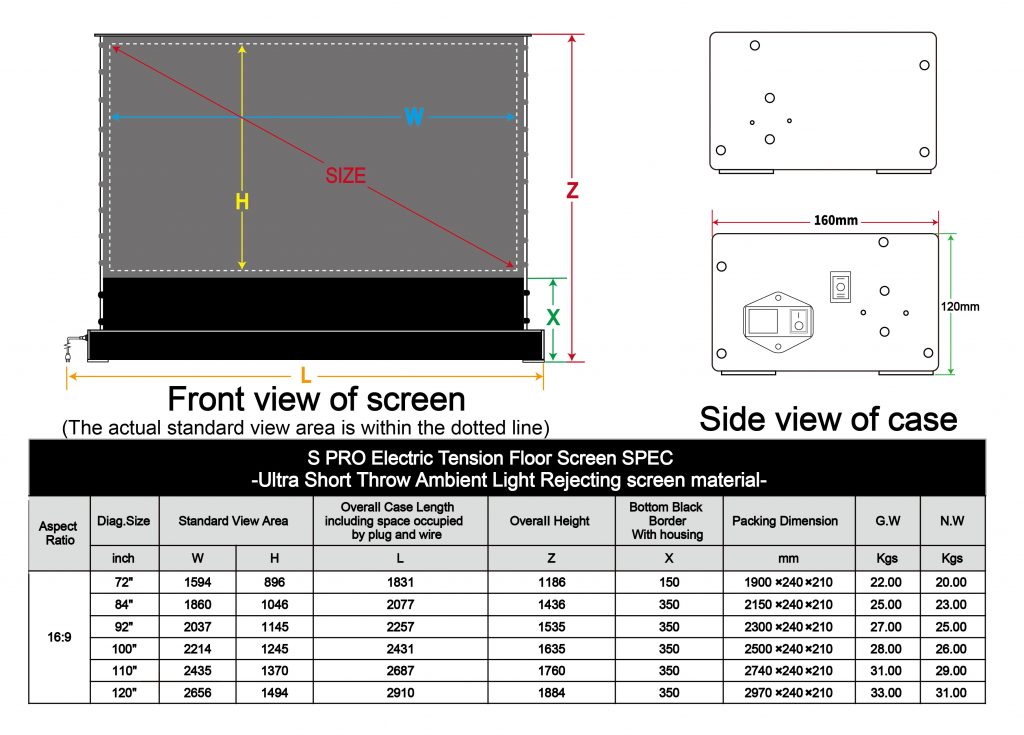 Vividstorm PRO Slimline Electric Tension ALR Pull Down Screen
This stylish screen is designed for wall or ceiling mounting and offers a more permanent solution for a home cinema setup. When the screen is not in use, it rolls back inside a stylish screen case.
VividStorm Electric Floor Rising Perforate Acoustically Transparent ALR Screen
Best suited for those with sound systems, this screen allows sound to be passed through the screen so you can install your sound system behind the screen.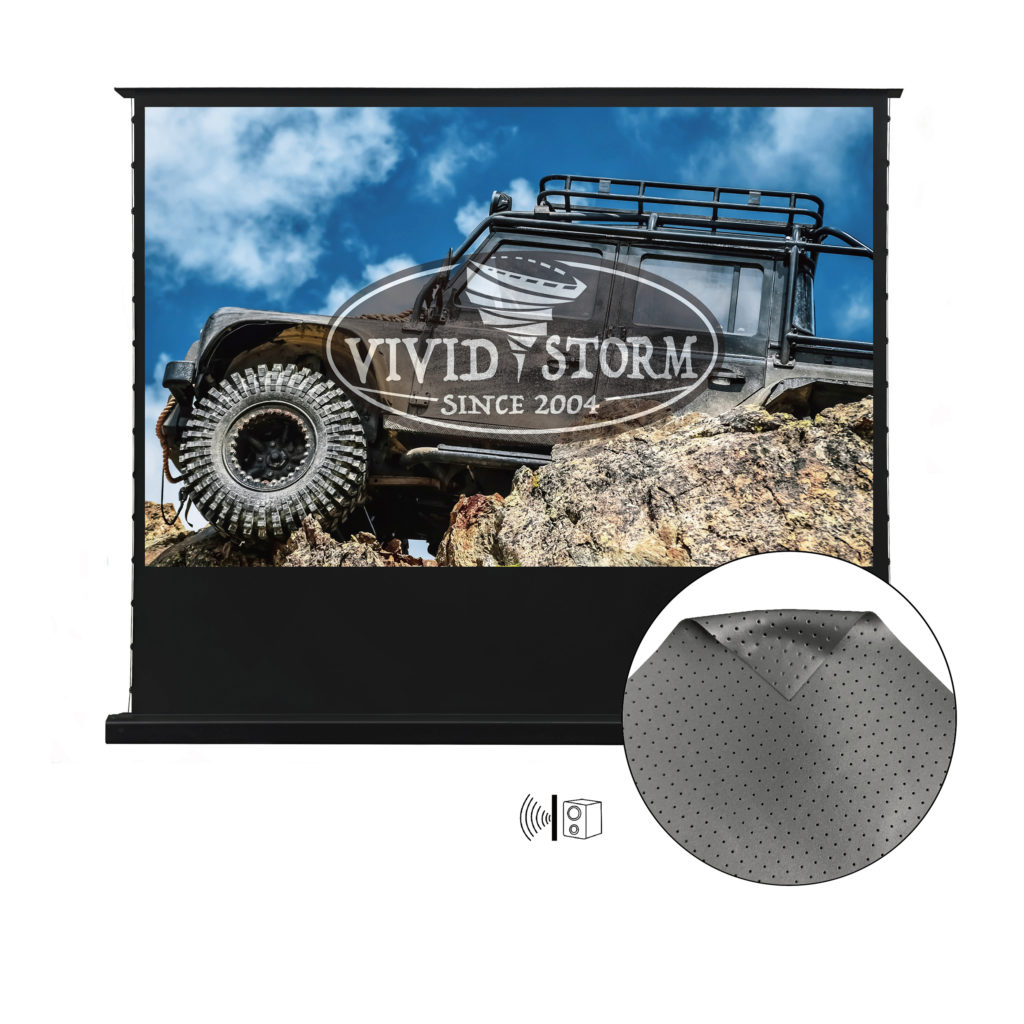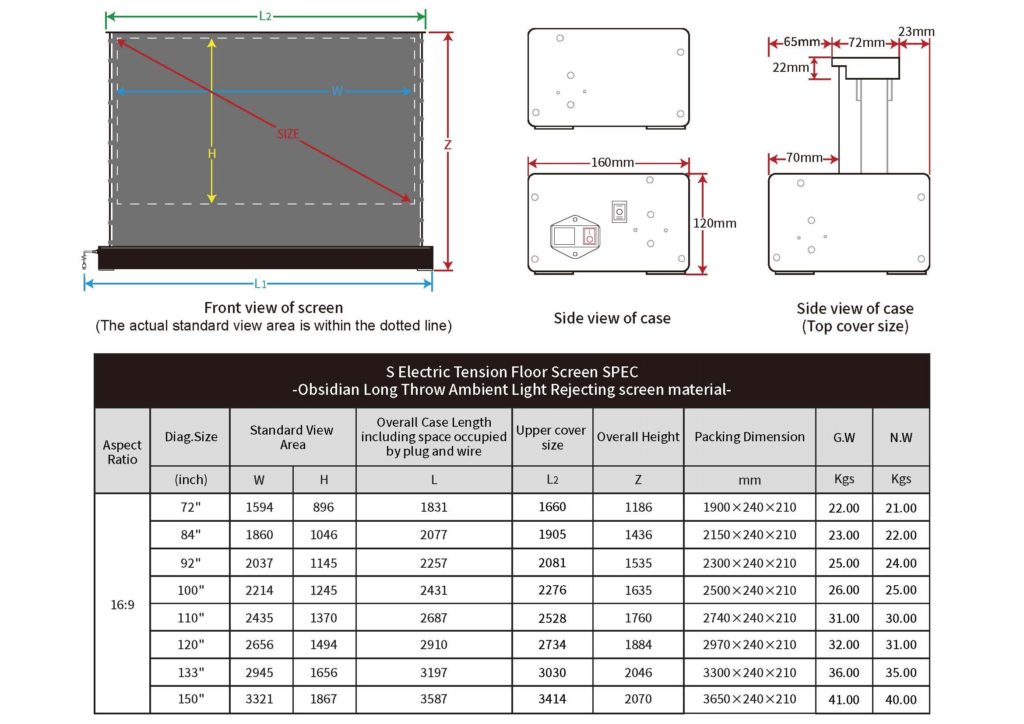 Looking for a UST projector and screen bundle? 
CHiQ B5U + screen bundle (SAVE £60)
CHiQ A5U + screen bundle (SAVE £60)
Which screen is best for a short / standard / long throw projector
Please note: these screens are not recommended for ultra short throw projectors (see above for UST screens)
VividStorm S Electric Tension Obsidian ALR Floor Rising Screen
The Obsidian floor rising screens are designed for all short, standard and long throw projectors. They are a great discreet solution with ambient light rejection (ALR) technology for those brighter rooms. Just like the UST screen models, this screen can also be rolled back into its case and stored safely.
Its tab-tensioned screen structure makes the screen absolutely flat to deliver stunning images for projectors.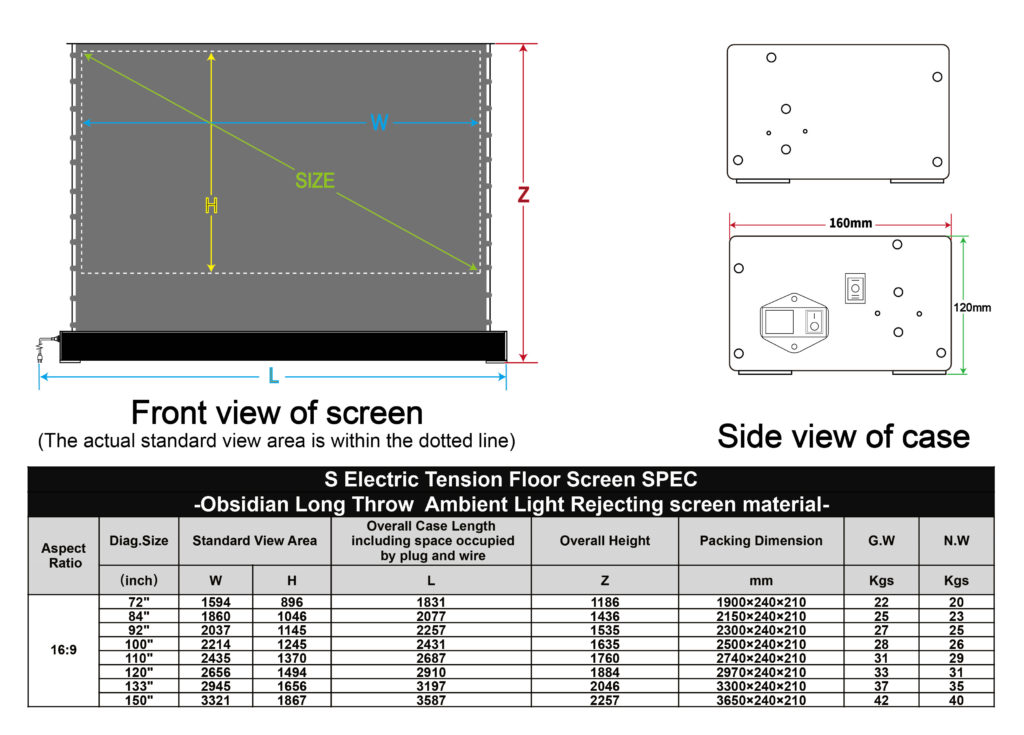 Vividstorm Slimline Electric Tension Pull-Down Obsidian ALR Screen
Similar to the obsidian floor rising screen above but pull down instead.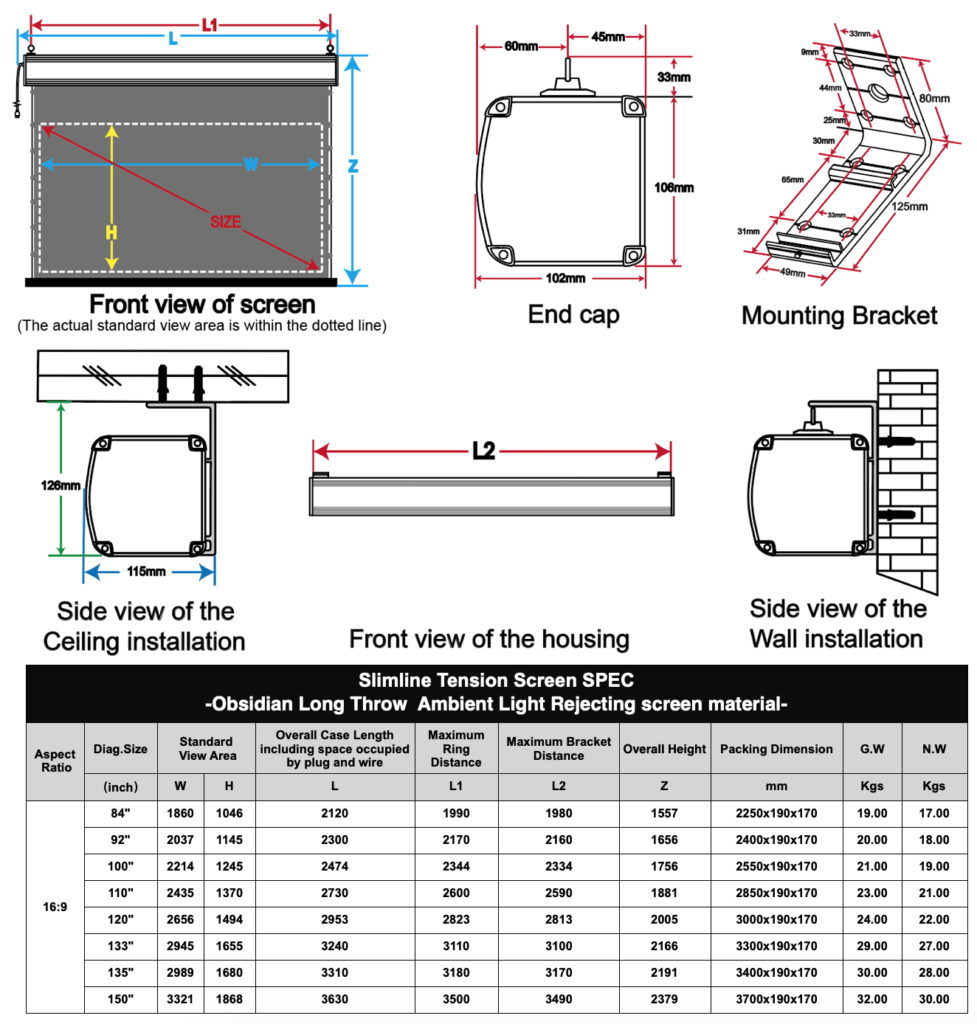 VividStorm Electric Tension Floor Rising White Cinema Screen
A cheaper, non ALR alternative to the Obsidian screen whilst still offering the same discreet design and Active 3D, 8K Ultra HD, and HDR capabilities. 
Available in sizes 100" & 120".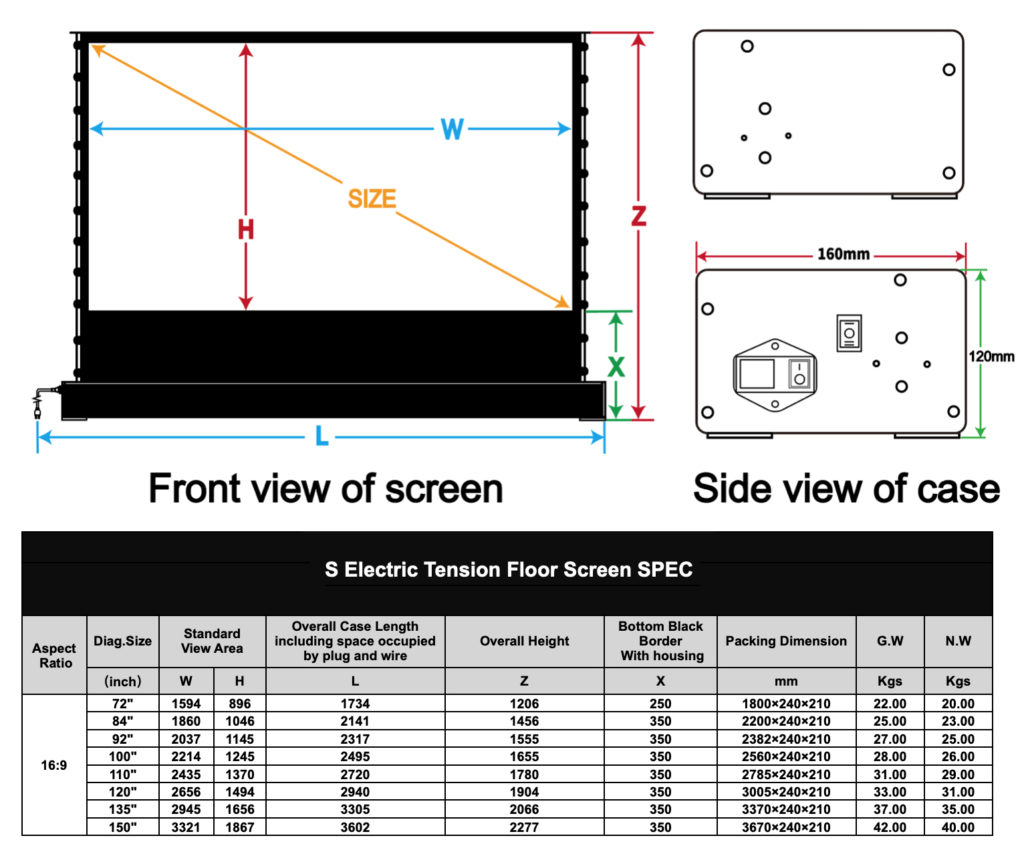 Vividstorm Slimline Tension Pull Down White Cinema Screen
Similar to the floor rising white cinema screen above but pull down instead.
Vividstorm screens are also perfect for those who are renting and unable to decorate due to certain rules. Simply place a floor rising screen on the floor / table and it is plug and play from there, no redecorating, drilling, etc. needed. 
Contact us
For bespoke sizing or if you need any help choosing the best screen or projector for your needs please contact us via live chat, email or phone (01924 589 589).